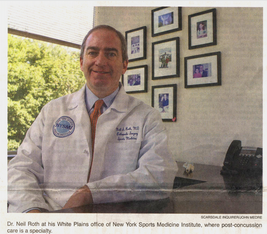 10 Aug

Concussion on Everyone's Mind as School Sports Season Begins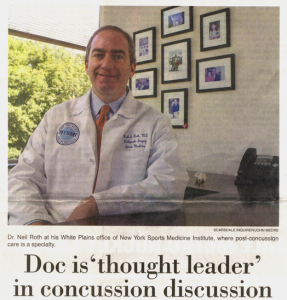 By TODD SLISS
"This is Your Brain on Drugs" was a well-known 1987 anti-drug campaign, famously showing a frying pan turning uncracked eggs (your brain) in shells into sunnyside up eggs (your brain on drugs). Fast forward almost 30 years and the "Any questions?" kicker has become focused on brain concussions.
In addition to performance-enhancing drugs, gambling and corruption, "concussion" has become a dirty word in sports, causing concern for everyone from parents to practitioners and politicians.
New York Sports Medicine Institute owner and top doc Neil Roth, an orthopedic surgeon with offices at Lenox Hill Hospital and White Plains, added a concussion care component to his practice two years ago. With a flurry of information coming out in public about the NFL's concussion issues, Dr. Roth felt it was a natural part of the evolution of NYSMI and sports healthcare in general.
"It was basically homegrown out of need," Roth, of Scarsdale, said. "There was no real great answer about how to handle these kids I would see at football games Friday nights and Saturday mornings and what to do with them and where to send them. The knee-jerk reaction is to send them to the emergency room to get a CT scan, which is 99.9 percent always negative. And then what happens to them afterwards? Sometimes they wind up at their pediatrician, sometimes they wind up with a neurologist, but there was no clear, definitive person to send these patients to."
With Dr. Angela Gagliardi, Marie Serina, RN-BC, MA, FNP-BC, Vestibular Physical Therapist Eric Schwabe, Practice Administrator Donna Stone and Office Manager for PT/Concussion Care Aly Cola, Roth has a team that can coordinate all aspects of the healing process.
At NYSMI, the medical staff has worked with patients of all ages and skill levels athletically from youth to pro and beyond, and even patients who suffered injuries not related to sports, such as car collisions and accidents at home. They support many high schools in Westchester and New York City, as well as Pace University.
"We interact with the parents and coaches to give them a very clear timeline as to when they can go back," Roth said. "Then we do the in-house testing of these kids. There is a return-to-play protocol we follow and then we can clear them. They can go back to the school and if the school has its own return-to-play protocol they can put them through that, too. Everyone is on the same page."
The mindset on concussions has changed dramatically, thanks in part to doctors in Boston studying the brains of deceased NFL players and the media breaking the story on the NFL concussion cover-up. It's a cultural shift, according to Schwabe, who has been a PT for 20 years. "Even when I played football there were smelling salts on the sidelines if you were unconscious or you were dazed," he said. "You went to the sideline, they had smelling salts and you went right back out. There just wasn't the breadth of knowledge there is now."
Roth said that a hit of any kind is a "fluid wave in the body," adding, "We're 80 percent water, so a big hit can propagate up towards our skull and can basically create a concussion as well — it doesn't always have to be a direct shot to the head."
Schwabe, who specializes in post-concussion care, and NYSMI use the very same ImPACT (Immediate Post-Concussion Assessment and Cognitive Testing) computerized base-line testing and follow-up protocols used by the athletic departments at Scarsdale and Edgemont high schools, but said that in his experience that is only one piece of the puzzle for keeping athletes healthy.
Schwabe noted that about 90 percent — with proper diagnosis and rest — recover from a concussion in 7-10 days. It's the other l0 percent with post-concussion syndrome that are at the biggest risk of second impact syndrome and also lingering side effects that an ImPACT test won't be able to identify, such as physical, emotional and behavioral symptoms that "need to be addressed by many different professionals."
Among the symptoms can be dizziness, imbalance and headaches and when they last for several weeks, physical and occupational therapy may be in order. A lot of that control and communication with the brain is housed in the eyes and ears. If an athlete can't function properly off the field — in the classroom, when driving, when in regular lighting — how can he be expected to perform on the field?
"You go home, sit down, wear your sunglasses, get off the computer and rest, but then, after a certain period of therapy, aerobic exercise will actually benefit you," Schwabe said, referring to research by University of Buffalo's Dr. John Leddy. "I'm a firm believer in that."
Schwabe often sees depression in college athletes who are taken away from a sport that defines them, provides their social network and may be paying for their education. Taking an athlete off the field, especially when it's for good, is a life-changing experience.
Not everyone recovers from a concussion in the same timeframe, which is why making sure an athlete has recovered physically and mentally is so important. Patients must be honest and stop "sucking it up" as they had been taught to do for decades. The athlete needs to know that not being 100 percent benefits no one on or off the field.
"Studies are out there that if they have repeated concussions they do have some long—term effects, but again, if everyone is on it and monitoring it we're not going to let a child continue to have three, four concussions and return to sports like this," Roth said. "This is clearly telling us this may not be this kid's thing, but one concussion is not going to give a child a chronic encephalopathic issue."
Roth recognizes the risk of playing contact sports, noting that education on the latest findings is key. "If everyone is attuned to this safety issue for our kids and we protect our kids, that's the most important thing," he said. "As we understand better the signs and symptoms, we can treat it better thereby making it safer for everybody to be on the field and enjoy being on the field. I think we have to try to take the panic level down by understanding that all sports have risk and if we can minimize the risk it will be all the better for everybody that participates."
County task force
Roth and Schwabe are part of a newly created Westchester County Concussion Task Force formed by County Executive Rob Astorino last month. At a public concussion seminar at the Westchester County Center Aug. 20, they will join 19 other medical professionals and educators who will present a consensus statement on concussions to aid local high schools in keeping kids safe by learning about diagnosing concussions and instituting the best scientifically-based return to play protocols in order to allow athletes to heal properly.
According to a press release, Astorino's goals are "to educate parents, schools and coaches on concussions and to develop a model program, available to schools to voluntarily adopt, that addresses pre-injury, sideline management and post-injury treatment for concussion in high school sports settings."
"While there have been great strides in understanding concussions, developing concussion protocols and improving safety rules and equipment, there is still room for improvement, especially with respect to post-injury management on the interscholastic sports level," Astorino said.
The task force is led by Dr. Mark Herceg, a concussion expert who is the commissioner of the Westchester County Department of Community Mental Health. "The task force will work to ensure that best practices are utilized by the best experts in the county," Herceg said. "We owe that to our children who play sports."
Herceg appointed Roth, Schwabe and many other "thought leaders on concussions," Roth said. "It's a fairly short list and we all refer to each other and talk to each other and the idea behind the task force is to come up with guidelines and a protocol that can be countywide, utilized by schools, athletic teams, pediatricians, anybody who has any interaction with this," Roth said. "It's to create an educational component that helps everybody understand what to do, what to look for, who to call, what are the next steps in handling this. There is no other initiative like this nationwide. There is no other county in the country that has this. I think this is a very ambitious project, one which will speak volumes if we can give good guidelines and peace of mind to the public."
There are two major goals Roth has in mind with the task force. The first is to include and educate — as represented by the cross-section on the panel — every person impacted by a concussion, including athletes, coaches, parents, athletic directors, athletic trainers, school nurses, principals and physicians.
Then comes an extremely important point: "No. 2 is basically not creating the notion that contact sports are bad," Roth said. "They're not bad. Kids can play football, kids can play lacrosse, kids can play soccer. It happens in all kinds of sports: cheerleading, soccer, basketball, helmet sports like hockey, lacrosse and football. These are not bad sports — they do a lot of things that are extraordinarily beneficial to the maturation of a young adult, to a young student-athlete. We want kids to participate in these sports, so the idea is to not scare parents, not scare kids. The idea is to educate them, look for the warning signs and what do we do if the unfortunate event of a concussion occurs."
In the end, Roth envisions a "well-thought-out protocol to give peace of mind," and eliminate many of the misconceptions and extremes related to concussions. The extremes come in overtreating concussions and the "more worrisome" undertreating.
"When you do have a concussion and it's unrecognized a kid can go back into a sporting event and get hit again, which is when you start talking about second impact syndrome and then chronic issues and post-concussion syndrome," Roth said. "Those are where all the problems begin."
In 2012, a very technical concussion seminar was held in Scarsdale or there was a lot of talk of NFL players and the trauma that repeated blows to the head have caused. It scared a lot of Scarsdale parents instead of sending them home more educated about concussions as they relate to their children. "I was not there, not part of it," Roth said, noting that it was a "disaster."
The county's seminar will localize concussions without the technical talk that leaves parents walking away feeling concussed themselves. "This is the first of many to come." Roth said. "We're inviting parents and coaches to come in and hear some very prominent speakers with updates and rolling out what we want to do as far as this model program with the task force… It's geared towards the public — it's not going to be a high level scientific conference."
The task force met for the first tine since the July press conference on Wednesday, Aug. 5. It was a time of experience sharing with what Schwabe called an "interesting" and "incredible" group of professionals. "lt's evolving," he said.
"What we do in 2015 might be total different in three or four years. It's exciting, definitely an exciting field." With a major impact to be felt by all.
Westchester County's concussion conference will be held Thursday, August 20, at 5:30 p.m. at the Westchester County Center. RSVP to Deetra Santos at [email protected] or 995-5245.
The above article appeared in the August 7 edition of The Scarsdale Inquirer, and is the first of a four-part series on concussions that will appear each Friday in August.