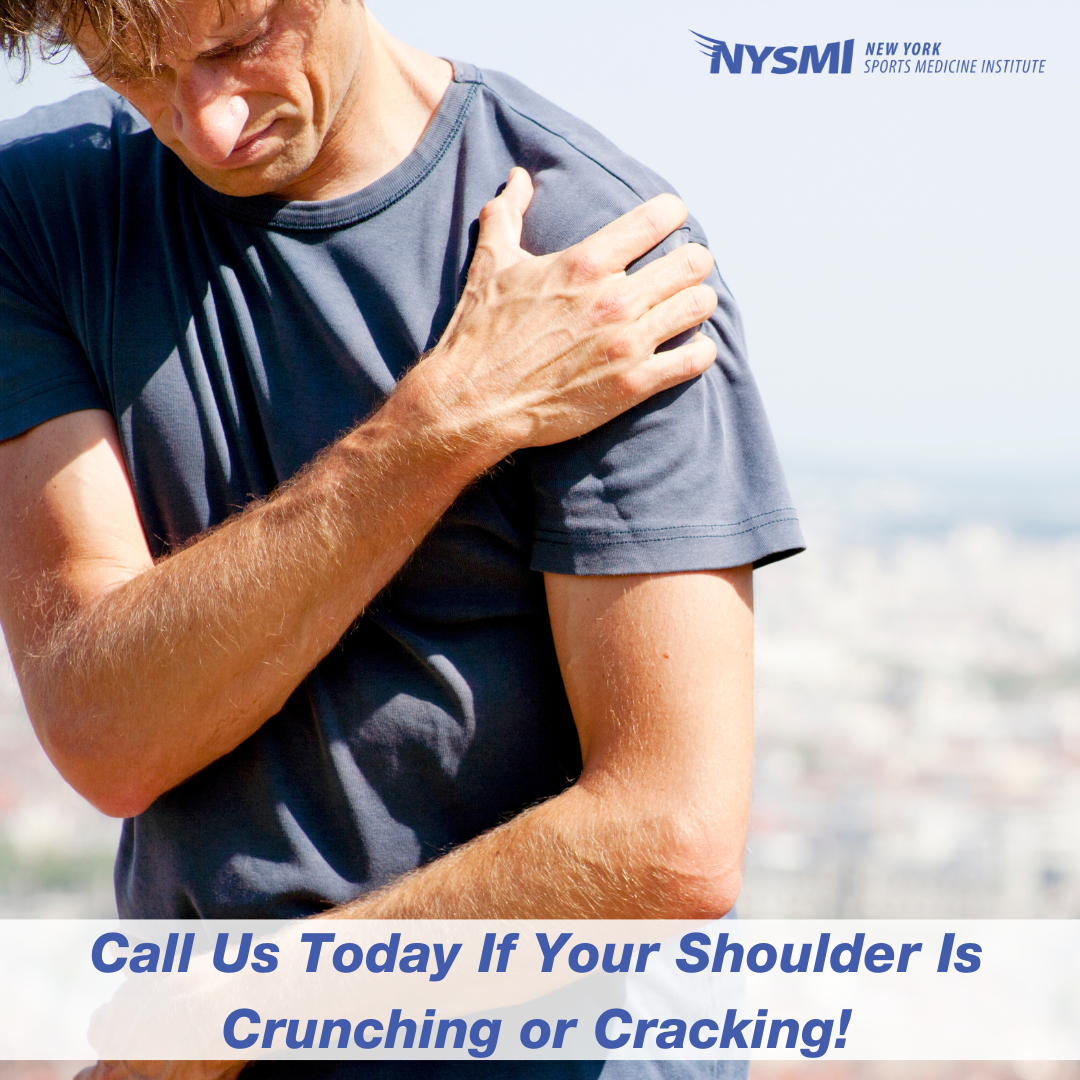 14 Sep

Why Are My Shoulders Crunching?

It's not uncommon to experience occasional shoulder pain or discomfort, but if your shoulders are crunching, it could be a sign of a more severe condition. New York Sports Medicine Institute is well-versed in diagnosing and treating injuries and conditions that affect the shoulder. Continue reading to discover some of the reasons why your shoulder is crunching.
Why Are My Shoulders Crunching?
The shoulder is a complex and vital joint that enables maximum flexibility and mobility of your arm. The sensation of your shoulder crunching or cracking can be unsettling, but this feeling is not uncommon in the joint. The sound or feeling of your shoulder crunching is known as crepitus. While crepitus is not generally cause for alarm, constant crunching, pain, and swelling are not normal in the shoulder. Here are some other reasons why you may be experiencing crepitus in your shoulder:
Dislocation – A shoulder dislocation can lead to joint instability. When your joint shifts out of place, it can produce an audible crunching sound.
Bursitis – Bursa helps protect your joints and allows the joint surfaces to glide over each other. When the bursa becomes irritated or inflamed, you may feel warmth, pain, and hear crunching when you move your arms or shoulders.
Osteoarthritis – The cartilage cushioning your shoulder joints often wears down with age. Crunching can indicate that the bones in your shoulder are rubbing against each other and be an early sign of osteoarthritis.
Cavitation – Joint crunching or popping occurs when the joints are separated by fluid. As the joint surfaces move apart, the fluid between them loses pressure. When this pressure drops, air bubbles are released from the joint and cause your shoulder to make noise.
Labral Tear – The labrum can become torn as a result of aging, overuse, or acute injury. Labral tears can produce crunching sensations when you try to use your shoulder.
Should You See A Doctor?
If your shoulder crunches or pops occasionally and you don't experience pain, you're likely not dealing with a serious injury. However, if you believe you've suffered a shoulder injury, you should not hesitate to seek prompt care from New York Sports Medicine Institute. Our experts will thoroughly evaluate your condition and develop a treatment plan to get you back to full health. If you are experiencing any of the following symptoms in your shoulder, it may be time to schedule an appointment with an orthopedist:
Warmth or swelling in the shoulder.
Instability.
Persistent pain in the shoulder joint.
Constant crunching or popping as you move your shoulder.
Weakness or numbness in the shoulder or arm.
Limited range of motion.
Treating Shoulder Pain and Crunching
While there are numerous conditions and injuries that contribute to shoulder crunching and pain, there are also multiple ways to address and treat your shoulder. Our team will carefully evaluate your situation and pinpoint the cause of your discomfort. We will then outline a personalized treatment plan to ease your pain and yield optimal results. Our experts provide conservative and surgical treatment options to manage shoulder injuries and restore function. Some of the ways we treat shoulder conditions include:
Immobilization.
Therapeutic Exercises.
Anti-Inflammatory Medications.
Corticosteroid Injections.
Surgery.
Contact Us
Our staff at New York Sports Medicine Institute recognizes the frustration that comes with nagging shoulder pain and crunching. If these sensations in your shoulder are a common occurrence, it's crucial to seek prompt treatment. Our knowledgeable orthopedists have helped countless patients manage their shoulder problems and will provide advanced, individualized treatments to help you fully recover. To learn more about the causes of crunching in the shoulder or to request an appointment, be sure to contact New York Sports Medicine Institute today!